Cycling and exploring Tokushima for the first time
After contemplating where to go for our annual autumn bike tour in 2018, Eka strong armed the rest of the Folding Tales gang (well not really, we all love Japan to be honest) to return to Japan. He laid out a detailed itinerary to tour Shikoku, the smallest and least populous of the country's four main islands. We would begin in Tokushima, spend a few days cycling through Shikoku, and finish off with the famous Shimanami Kaido before returning to Osaka by train.
After our previous hiking trip to Nakasendo in 2015 and our cycling tour in the Noto Peninsula of Ishikawa in 2016, I convinced the rest of the group that we should try heading to a completely different country for our autumn cycling tour in 2017. Which we did. We opted for Spain, said to be the cheapest in Western Europe, and a beautiful country for cycling (I mean have you seen La Vuelta Espana?). If you missed those articles, you can click on these links:
(We finished the tour with a little bit of cycling in Barcelona too, but that post has not been written yet.)
But like I mentioned above, we all have a great fondness for Japan and her history and all her quirks. Eka and I had not been back for almost two years, and while Maya was in and out of of the country for work multiple times, it is still one of her favourite travel destinations. So off to Japan we went. But the tour itself is a completely different story. Before saying goodbye to our normal creature comforts and traveling purely on two wheels accompanied by whatever we could carry on our bikes, we wanted to take a bit of time to explore Tokushima City, the capital of the Tokushima prefecture on Shikoku Island.
A skip and a bus ride away
To get there was fairly easy-peasy. Once we touched down at the Kansai International Airport (KIX) nearby Osaka, all we needed to do was board a bus for a 3-hour journey. After a 7-hour long and uncomfortable flight for me watching Eka enviously as he snored away peacefully unperturbed by turbulence, we arrived on a bright and sunny morning at the Kansai International Airport. It was our rendezvous point with Maya, and after the necessary toilet stops to freshen up and purchase of snacks for the ride, we were ready to go.
The bus stop is right outside the departure/arrival hall, with a spot each at both Terminal 1 and Terminal 2. You don't have to carry/wheel your luggage very far at all, but for those of you who pack your bikes in cardboard boxes: the bus stop is in a location that is airport trolley accessible. Major plus point. We opted not to send our bikes via ta-q-bin or luggage forwarding, since it was cheaper to bring them with us on the bus. Our Ritchey breakaway suitcases aren't as massive as traditional bike cases, and this made everything a hell of a lot easier.
Bus fare from Kansai International Airport to Tokushima Station: JP¥4100 per person

Bus fare timetable: http://www.kate.co.jp/en/timetable/detail/TS

Tip: Just buy the tickets when you arrive. There are more than enough buses.
The real trouble began when we arrived at Tokushima station, where we only realised that an oversized taxi would need to have been booked in advance. Keep this in mind if you REALLY need a large vehicle for your luggage, particularly if you're traveling in a group. For us, a very nice taxi driver managed to somehow stack all of our bike cases in the trunk, secured with several bungee cords. It was a somewhat nerve-wracking 1km drive to our Airbnb, but despite their apparent precarious position, the cases stayed in place until we arrived.
Tip: If your accommodation is less than 2km from Tokushima station, just grab any of the taxis there, as long as they can fit your luggage. Our taxi fare was just JP¥510 since it was merely 1km away.
Tokushima by bike
Like most Japanese cities big and small, bicycles are everywhere in Tokushima. Our first step was to unpack the bikes and ride to a nearby bike shop to make sure everything had been put back in place properly and that all parts were in proper working order before we went on tour. It was also obviously a nice excuse to get our first souvenirs from the trip, namely local products from brands like Kapelmuur that are unique to Japan (because why wouldn't you?).
We opted to head to Nakanishisaikuru or ナカニシサイクル, since we knew the shop had a number of the higher tier brands, and therefore would not find it difficult to sort out our bikes. Check out their website at http://cycling.co.jp.
Our bike check up was merely a brief one, since the Ritchey breakaways survived the flight and bus journey with only minor scratches. We'd packed our bikes MOSTLY well, and we'll post a write up soon on how this can be done to minimise damage to your bikes.
After we acquired the necessary missing gear for our tour like extra leg warmers and some souvenirs, one of the chaps helped us find a nice breakfast spot before we went on our way. Following him on his small and nimble foldie, he led us to Cafe Takashima for coffee and a bite, where we thanked him profusely, promised to keep in touch before saying a warm goodbye and tucking in. The cafe was a good place to start the day, and was affordable too.
Traditional Awa indigo dye
Our first stop for the day was the House of Aizumi, the former home of an indigo dye merchant, preserved from the days when the indigo trade was flourishing. Essentially it showcases the traditional agricultural equipment used to grow the Awa Ai plant, how it is harvested and processed, as well as the dye process itself. You can also participate in a workshop to learn how to do the dye itself, and artisans regularly hold events there too.
If you're familiar with Japan's cultural heritage, you'll know that Japan Blue is one of the most intricately intertwined with their history. There were strict laws by the Shogun during the Edo Period in the 1600s on what fabrics and colours people could wear, and indigo was one of them. Aizumi Town itself takes the name from indigo (ai meaning indigo, and zumi meaning to live). Awa itself is the old name for Tokushima, one of the most famous producers of indigo, so the trade has a special place in the area's past.
Why is indigo a big deal? Well first of all there aren't many places where the indigo dye is still made the traditional way. There are only 5 farmers there that still do. The art is dying because synthetic dyes are faster, easier and cheaper to make. However, indigo dyed fabric actually have remarkable properties, since indigo has antibacterial and insect repellent effects, is flame resistant and is also odour and dirt resistant. Aizumi clothing was appreciated as a remedy for skin trouble or eczema, while repelling insects. Even the samurai wore indigo underneath their armour because it helped with wound healing.
There's a museum consisting of a number of buildings attached to the main house, with exquisite examples of indigo dyed fabric from the past, and newly made products to take home. Silk scarves make for wonderful presents for the mums or aunties back home, though there are a lot of other things that were specially made there, like an assortment of garments, and even indigo soap products, tea and candy. We spent a bit of time there wandering around the house, taking in the amazingly intricate dioramas, perusing the souvenir shops and even getting an impromptu music lesson, before heading out to our next destination for the day.
Ryozen-ji Temple
This is the first temple in the Shikoku 88 Temple pilgrimage, which takes about two months to cover an epic 1,200km on foot (and you thought cyclists were hardcore, aye?). The journey completely circumnavigates Shikoku, traversing all four prefectures on the island. Ryozenji lies closest to Koyasan, the head quarters of Shingon Buddhism, therefore generally serves as the start and end point on Shikoku.
Because of this, Ryozenji sells white robes, woven hats, walking sticks and other supplies that pilgrims may require. These pilgrims (both local and foreign) are a common sight at the temple on a daily basis. On the day we came across a big group of pilgrims gathering for a group photo there, either excited to begin their journey or exhilarated to have completed it, it was hard to tell which.
The temple was said to be founded in the 8th century by the monk Gyoki under the direction of Emperor Shomu to offer prayers. The pilgrimage gained popularity in the 17th century, and remains so today. Regardless of whether there is any truth to who founded the temple, it remains an important site for Shingon Buddhism, a major school of Japanese Buddhism. Even students are known to visit the temple before university exams; apparently the temple has a reputation for ensuring academic success.
The current temple structures that you see there date from 1964, as it was burnt down at the end of the 19th century. Like most temples in Japan, Ryozenji was also burnt down by warlord Chosakabe Motochika who burned down many, many temples on Shikoku in the 16th century.
A fine wooden gate serves to welcome you into the grounds, which give way to attractive gardens with a small waterfall, a large carp pond, a two-story pagoda, and various statues scattered around. The garden actually holds over 2000 roses of 200 different types, which bloom from May to June and from October to November. Overall, it's a picturesque, tranquil place that makes for a pleasant spot to spend the afternoon.
Awa Odori
This was something we caught purely by accident, thanks to our lovely Airbnb host Yuriko, who left us free tickets at her beautiful home. We had a few hours to spare the night before embarking on our tour, and so opted to squeeze in a performance. We chose a dinner spot nearby, and rode quickly to the venue just in time for it, and did not regret our decision to catch this "Fool's Dance", whose origins date back 400 years.
The Awa Odori (odori meaning dance) is infectiously fun, and is only a slice of what you can experience at the annual Awa Dance Festival in August, the largest in Japan and attracting more than 1.3 million tourists every year. It sprung from the tradition of the Bon Odori, part of the Bon "Festival of the Dead". If you can make it to the real thing that would obviously be better, but a good alternative is the Awa Odori at the Awa Odori Kaikan, a museum that holds daily performances where you can also join in the fun and earn a keepsake to take home.
Both men and women take part in the dance, and you will see the difference between the two in a single performance. The men take part with gusto, crouched low with knees out and later whooping and shouting the accompanying song and chants, even jumping at the frenzied end of their routine. In contrast, the women dance by stepping daintily with their feet perched nimbly on the ends of their wooden geta sandals, punctuated with small kicks as they go through their choreography in tight groups. These days however, even women take part in the men's dance.
Also located in the building is the lower station of the ropeway leading up to Mount Bizan. We opted not to head up to the mountain due to our early bedtime to rest up for our tour, but it is worth the visit. Mt Bizan has the best nighttime scenery in Shikoku at its peak, giving 360 degree views of the surrounding area, and is also a well known area for cherry blossom viewing. On a clear day you can even see as far out to Awaji Island and the shores of mainland Japan. To get to the top, you can take the Bizan Ropeway, an aerial lift line that was opened in 1957. It departs from the 5th floor of the museum, but do check operating hours before making your plans to visit.
Sayonara Tokushima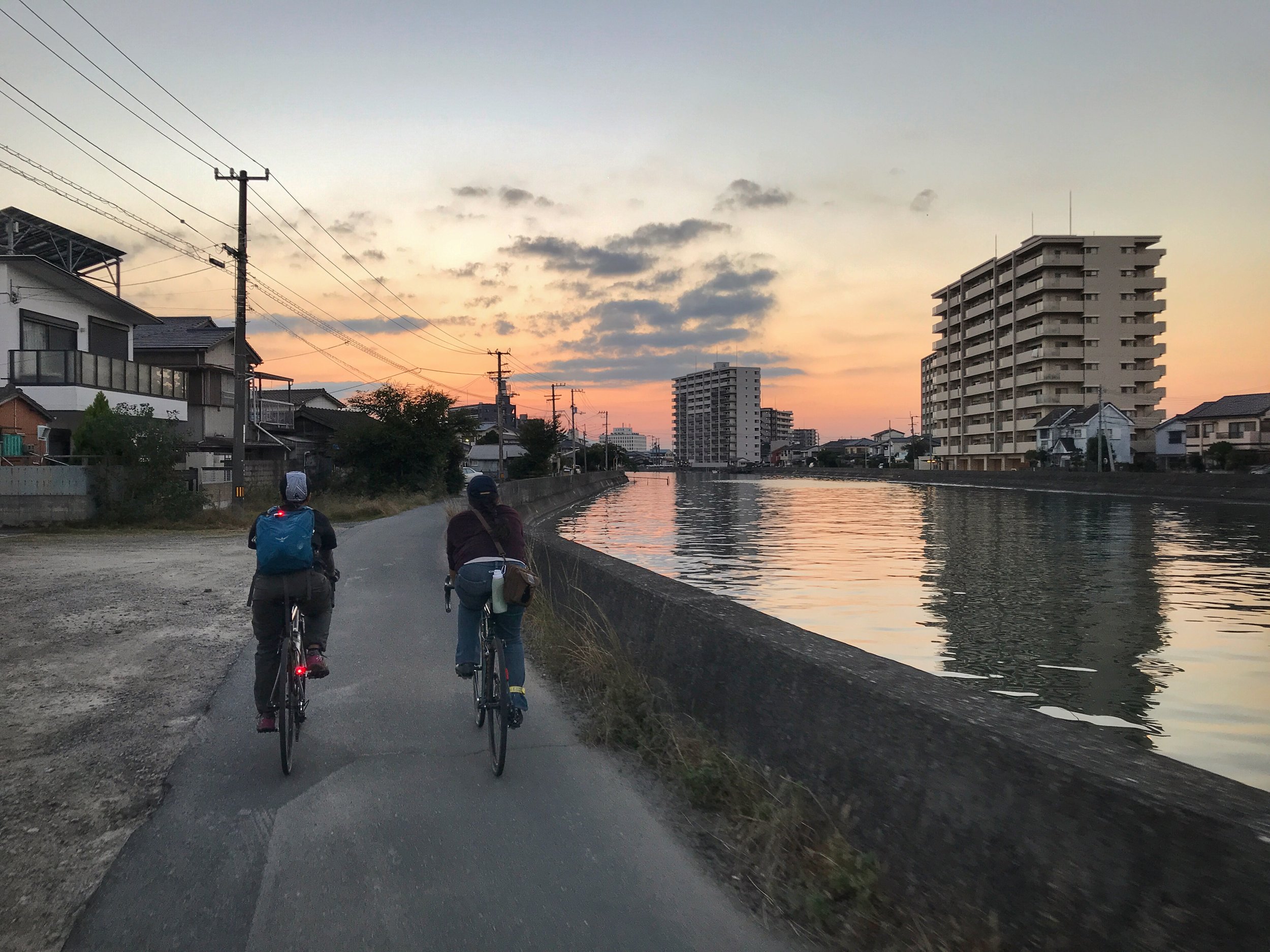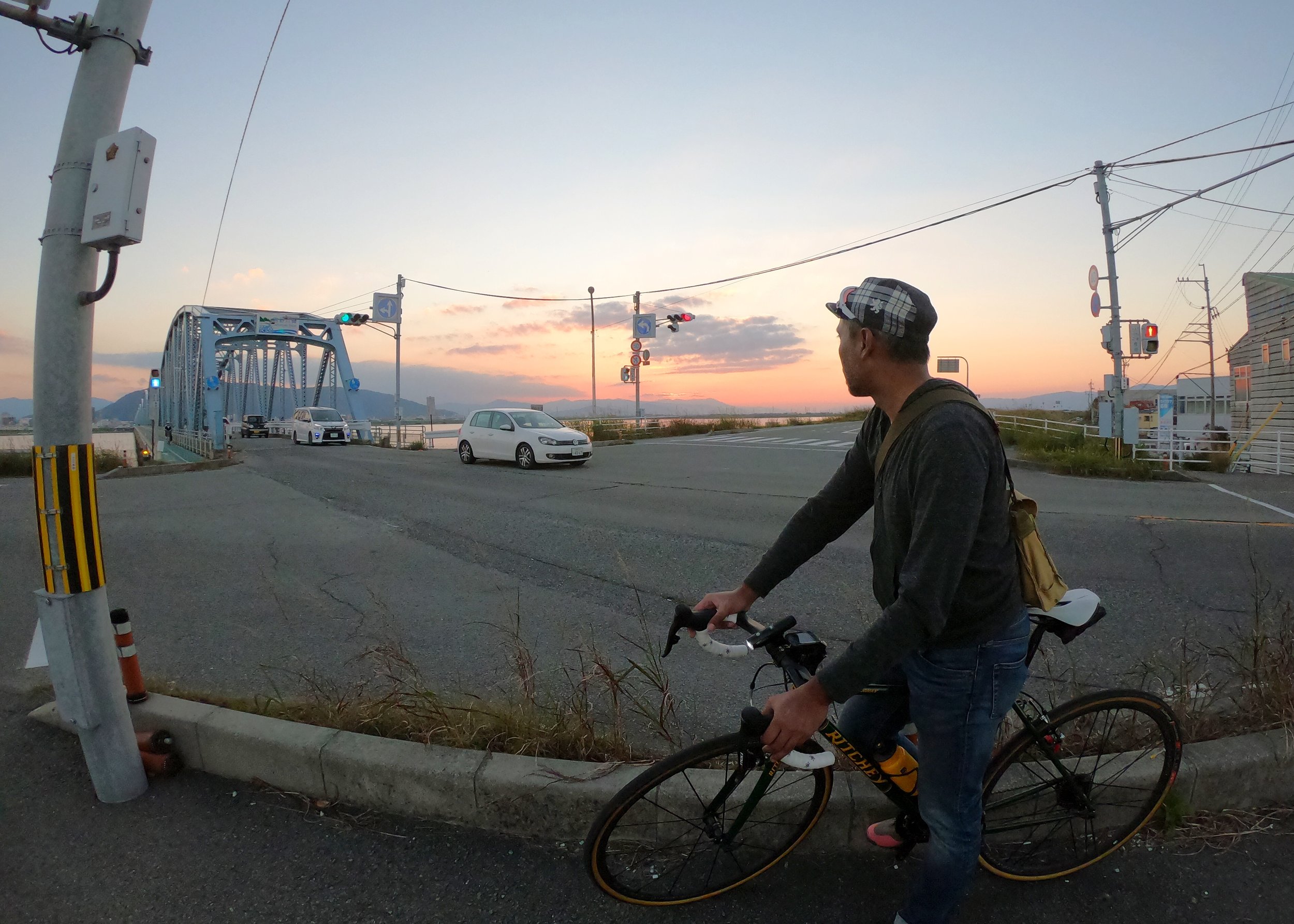 Overall, Tokushima was a great re-introduction to Japan for Eka and myself, after almost two years of not setting foot on the land of the rising sun. The urban cycling is great compared to the big cities thanks to less traffic, there are still a lot of remnants of the country's traditional past there, as well as some great food choices. But we had a journey ahead of us, and all to soon had to bid the city a fond farewell.
Nadiah Abdul Aziz